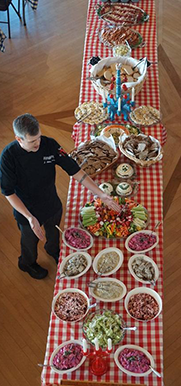 If you're looking for something that's different from the typical catered fare, why not highlight your heritage!
Over the years, we've provided regionally authentic cuisine from around the world to thousands of people; tens of thousands of servings! The dishes are traditional, but every recipe has been infused with contemporary ingredients and techniques for a more flavorful dining experience.

Your event is unique and specialized to you. The food should be too!
Again, these menus are just a taste of what we can offer you and your guests. Don't hesitate to ask for something distinct to you and your occasion, like a cultural mash-up!
Albanian | Balkan | Bulgarian | Cajun | Corsican | East Frisian | English | French | German | Greek | Hawaiian | Ho Chunk | Hungarian | Indian | Iroquois | Italian Balogna | Japanese | Japanese Ramen | Jewish Hanukah | Latvian | Malian & Ghanaian | Mexican Holiday | Mexican Taco Bar | Norwegian | Occitan | Polish | Romanian | Ryukyu Islands | Sardinain | Serbian | Southern US | Swedish | Swedish Breakfast | Swedish Julbord | Swedish Sandwiches | Syrian | Ukrainian | Venetian | Vermont | Yorkshire


Albanian
Back to Top
Balkan
Back to Top
Bulgarian
Back to Top
Cajun
Back to Top
Corsican
Back to Top
East Frisian
Back to Top
English
Back to Top
French
Back to Top
German
Back to Top
Greek
Back to Top
Hawaiian
Back to Top
Ho Chunk
Back to Top
Hungarian
Back to Top
Indian
Back to Top
Iroquois
Back to Top
Italian Balogna
Back to Top
Japanese
Back to Top
Japanese Ramen
Back to Top
Jewish Hanukah
Back to Top
Latvian
Back to Top
Malian & Ghanaian
Back to Top
Mexican Holiday
Back to Top
Mexican Taco Bar
Back to Top
Norwegian
Back to Top
Occitan
Back to Top
Polish
Back to Top
Romanian
Back to Top
Ryukyu Islands (Okinawa)
Back to Top
Sardinian
Back to Top
Serbian
Back to Top
Southern US
Back to Top
Swedish
Back to Top
Swedish Breakfast
Back to Top
Swedish Julbord
Back to Top
Swedish Open-Face Sandwiches
Back to Top
Syrian
Back to Top
Ukrainian
Back to Top
Venetian
Back to Top
Vermont
Back to Top
Yorkshire