For complete Service & Policy information,
Download RedBarn Catering's Contract Agreement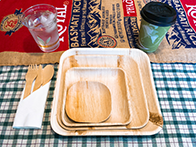 Event Catering for Wedding Receptions, Rehearsal Dinners, Business Lunches, Graduation Parties, and Occasions of all kinds.
Save money with compostable and renewable Plates, Flatware, Cups, & Napkins.
A Certified Food Safety Manager will be on site at your event for as long as RedBarn Catering is present.
Meals are served Buffet Style unless arranged otherwise.
Pricing options available for Plated & Family Style meals.
Parties of 50 guests or more will receive Wait Staff Service.
Flexible options available for additional entrées and sides.
Custom menu planning assistance.
Event planning consultations.
Cooking classes and demonstrations are available too!